Press Release: Vea Fitness Partners with Snap Kitchen and City of Philadelphia for Philly Free Streets Event on 9/24
PHILADELPHIA, PA (PRWEB) SEPTEMBER 20, 2021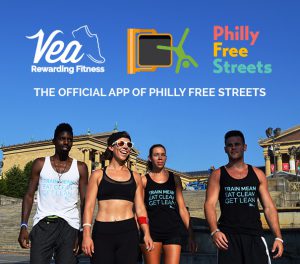 Philly tech startup Vea Fitness will officially launch its iOS Application on 9/24, in tandem with Snap Kitchen, and the City of Philadelphia. The three entities are collaborating on the City of Philadelphia's first ever "Philly Free Streets" event, on 9/24 from 8AM to 1PM.
Vea Fitness is an application for iOS and Android that rewards users for working out with discounts, free products and more. Users can run 2 miles in order to earn as much as 10% off their new running shoes. For 3 miles, their reward goes up to 15% off. Rewards include: healthy meals, wireless headphones, running gear, personal training sessions, grocery delivery and more, offered by over 20 brands.
For their product launch, Vea Fitness teamed up with Austin, TX-based Snap Kitchen, The One Stop, Healthy Meal Shop and Premier Food Sponsor of Philly Free Streets, as well as the City of Philadelphia, the same group that plans the Philadelphia Marathon. The three are working together to produce Philly Free Streets, an event in which over 10 miles of the City are car-free, and open for residents to walk, run, bike, skate, and stroller through, from South Street up to Fairmount Park area.
"We're thrilled to gather the Philadelphia around wellness and exercise at Philly Free Streets, and are hoping to make fitness more approachable by rewarding users for working out." Jonathan Maxim, CEO Vea Fitness
Snap Kitchen Marketing Manager Beth Lawrence adds, "We're incredibly excited to help bring this day of healthy, active transportation to life, with the City of Philadelphia and Vea Fitness. Users can engage with Vea Fitness to earn rewards from Snap Kitchen, the City of Philadelphia and other local and national brands, all while challenging themselves and discovering new and exciting things along the route."
The event includes over 40 healthy, fun activities for participants along the way, including yoga, salsa lessons, bootcamp-style workouts, arts, music and more. There is also a concert at the end located in Sweet Briar Park.
Vea Fitness, a core event sponsor, is The Official App of Philly Free Streets. Participants earn rewards during the event by downloading the Vea Fitness app, and taking fitness Challenges. Each Challenge has an associated reward, such as "Walk 1mi, and earn a free workout tank top". Challenges range from .5 to 5 miles, and are suited for most skill levels and body types.
Users of Vea Fitness also have the option to join the City of Philadelphia-Sponsored Scavenger Hunt that day, by checking in with the Vea Fitness app at activities along the way of the event. Each check-in with the Vea Fitness app also enters users into a Sweepstakes drawing.
Media inquiries should be directed to media(at)veafitness(dot)com.