Beat the Heat with Vea & Win up to $1,000 in Prizes from New Balance, CORE Hydration
Ready to Beat the Heat? The next Vea Fitness workout challenge (August 1-September 8) is simple: walk, run or bike just 1 mile outside this summer (or escape the humidity by working out inside an air-conditioned gym for 20 minutes!) and we'll hook you up with a FREE bottle of CORE water for every workout you complete!
Let's face it - while summer is amazing for so many reasons, running outside in 90-degree temperatures can be less than enjoyable - it's just so HOT!
To motivate you to keep it active throughout the hot summer months, and to remind you of the importance of staying hydrated, Vea Fitness has teamed up with CORE Hydration, New Balance and Philly-based fitness professional and wellness coach Rachel Rubin (@FitWithRachel) on our latest fitness challenge - BEAT THE HEAT.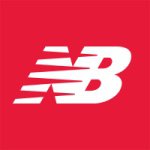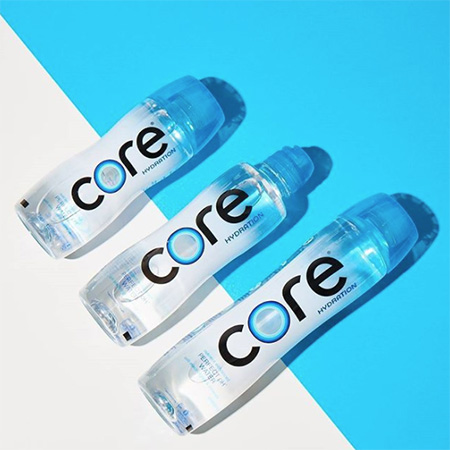 Here's What You Need to Know
From August 1 until September 8, we'll reward you with a free bottle of CORE water for every one-mile walk, run, or bike ride tracked outdoors using the Vea Fitness app*, up to 5 days in a row.
The Challenge In Vea Apps: Open Vea App -> Select "Rewards" -> Choose an Activity (See "Run" highlighted in Screenshot 2) -> "Start Activity" -> Workout 20 minutes, walk/run 1 mile or bike 2 miles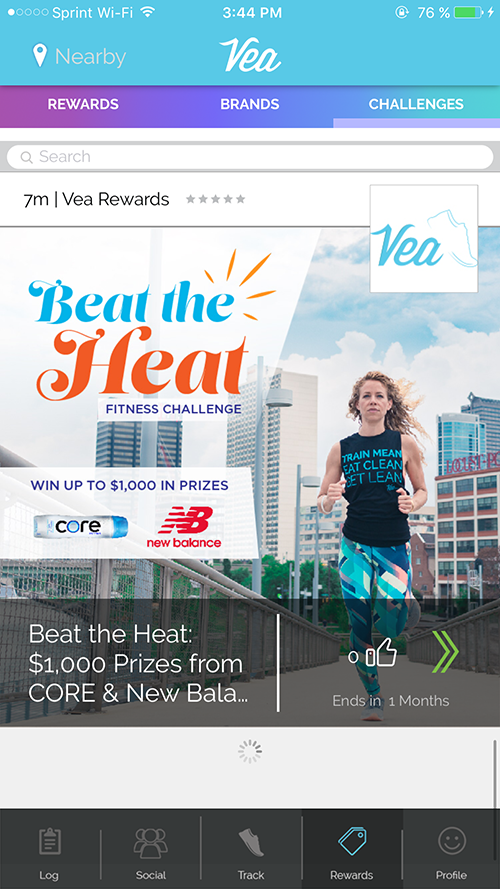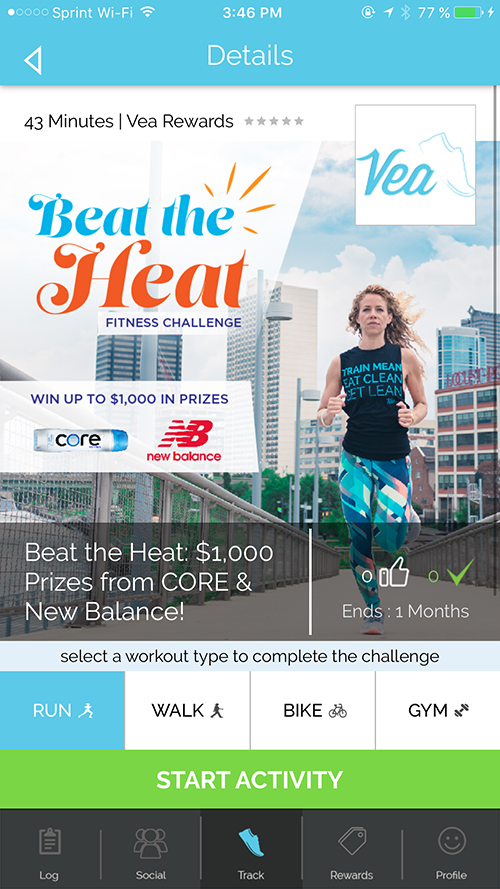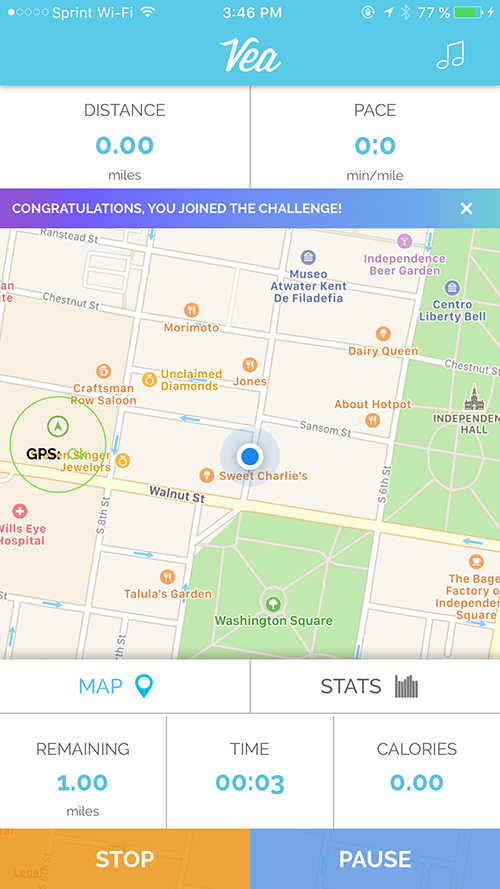 Too hot for you out there? Understandable - you can also Beat the Heat inside the gym by using Vea's "Gym Check-In" in with the Vea Fitness app and working out for just 20 minutes.
How to Gym Check In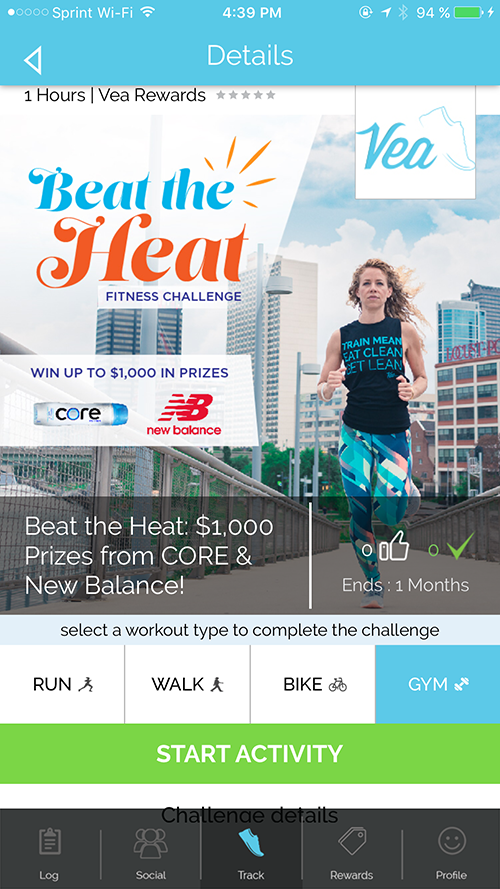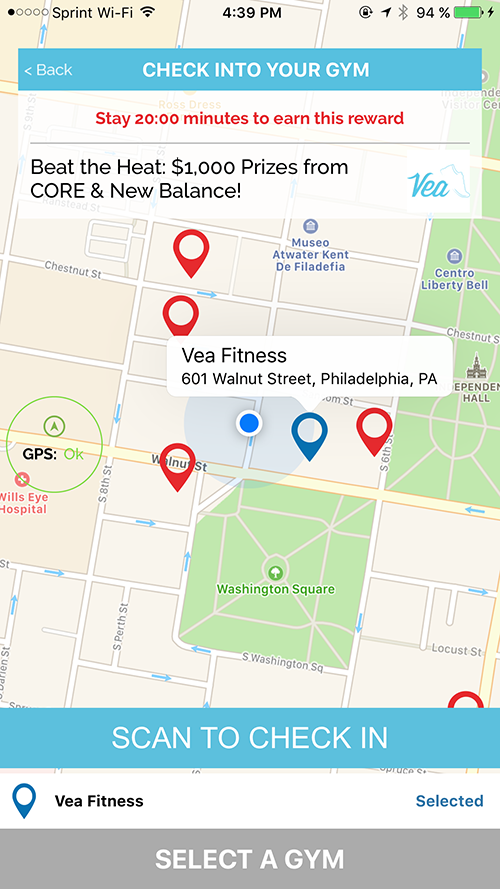 The more you complete the Challenge in Vea Apps, the more you're eligible to win, as each challenge completion counts as an entry into a random drawing for over $500 in prizes. Even bigger prizes will be awarded to the top 3 challenge participants, more information below!
HOW TO ENTER TO CHALLENGE
Open Vea Fitness App -> Rewards (in main navigation) -> Challenges (top right) -> Tap "Beat the Heat" -> Start Activity (whichever workout type you prefer - walk, run, bike or Gym Check In)
IMPORTANT: To join the challenge, you must run/walk/bike/gym check-in 5 days in a row to start

You don't need to start on day 1, but we recommend it to give yourself time to get the most workouts in

You can complete the BTH Challenge in Vea every time (see screenshot) or do workouts from the home screen (see below)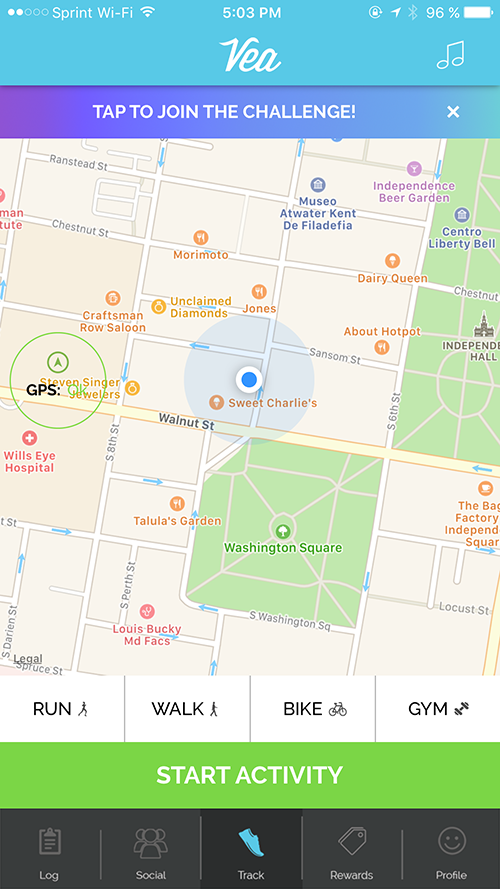 HOW TO WIN
The person who completes the MOST workouts during the BTH challenge wins Grand Prize
The person who completes the second most workouts, wins Second Prize
The person who completes the third most, wins Third Prize
Everyone who works out 5+ days in a row is entered to win other randomly-drawn prizes, detailed below

Each time you complete the BTH Challenge in Vea Apps = one entry into the drawing
THE PRIZE POT
GRAND PRIZE: The one who completes the most workouts a head-to-toe New Balance workout outfit (footwear, top and bottoms) valued at $499 and a summer's supply of CORE Hydration Waters (72 water bottles) valued at $169
SECOND PRIZE: Vea "Eat Clean, Train Mean" workout tank top, 48 Bottles of CORE Hydration (valued at $149)
THIRD PRIZE: Vea "Eat Clean, Train Mean" workout tank top and 24 CORE Hydration Water Bottles ($99)
THE POT: After you workout (run, walk, bike or gym check in) with Vea Fitness app 5 days in a row, you're entered into a drawing for win prizes from Halo Top Ice Cream and other partners
We'll also be giving out random prizes along the way to challenge participants, who will be contacted by email. Make sure you sign up with a valid email on Vea!

Use the Hashtag #veabeattheheat to show us how you stay fit in the summer, and be entered into weekly contest drawings!
Ready to join the Vea Fitness "Beat the Heat" fitness challenge? Here's what you need to do:
Start by downloading the Vea Fitness app for iOS or Android
As soon as the challenge goes LIVE  in the app on August 1, tap "Join the Challenge" on the top of the home screen

If you're using Android, the Beat the Heat challenge will be at the top of the feed on the home screen when you first open the app

Use the Vea app's GPS tracking to log one-mile walks, runs, and bike rides - or check in at gyms
When you complete the workout, you'll receive a promo code for a complimentary bottle of CORE water, which can be redeemed through the Vea Fitness website. Free CORE bottle vouchers will be mailed out each week!

For a demo on how to use Vea Fitness Apps, see here

After your first workout, get excited for the next one! You can earn up to five bottles per person, and if you're one of the 3 users who complete the challenge the most times, we'll reward you much more!
"Not only do I 'Beat the Heat' - I choose to be with it! Soaking up the sun feels so good on the mind, body, and soul, and a good sweat helps heal your health in many ways by releasing stress," said Rachel Rubin, Personal Trainer, Corrective Exercise Specialist and Nutritionist. "Staying hydrated is extremely important, so challenge yourself to drink more water than you normally would - water is the your body's most-needed nutrient source!"
Stay updated on our Facebook, Twitter and Instagram -
In Philly? we'll announce Pop-Up Hydration Stations throughout the challenge

we'll set up with CORE on popular running paths in Philly to hand out free CORE bottles to keep you cool, and help you to BEAT THE HEAT!

Search the hashtag #veabeattheheat to follow along and join the conversation
Questions? Email hello@veafitness.com.
*Limit to five (5) CORE waters per user